Black River Angus Steak Kabobs
Our great Angus beef taste. From start to finish.
We use only Angus beef aged to perfection. Then we hand-trim and marinate our steak kabobs to ensure
extra tenderness. But we leave the finishing touch to you: a bottle of our unique Black River Angus
Steak Spice comes in every box.
Black River AngusTM/MC means great beef taste.
Each of the kabobs are individually vacuum packed and quick frozen to guarantee freshness.
Just peel back the corner of the film to open.
 FREE 30g bottle of steak spice inside
10 steak kabobs
Extra tender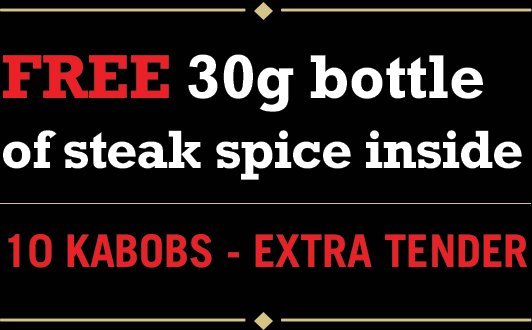 Ingredients:
Ingredients: Angus steak kabobs: beef, water, salt, dextrose, onion, garlic, soy sauce powder (wheat, soybeans, salt), maltodextrin, modified corn starch, flavour, spices and spice extracts, sodium diacetate, lactose (milk), papain (sulphites), tricalcium phosphate (mfg aid), polysorbate 80 (mfg aid). Angus steak spice: dehydrated garlic, spices, salt, canola oil, citric acid, dehydrated red bell pepper.
Cooking Instructions:
Cook to minimum internal temperature of 160°F (71°C). Kabobs can be prepared from frozen or thawed in refrigerator for 4 hours or overnight. Season with Angus steak spice before, during or after cooking.
BBQ
Cook in pre-heated lidded BBQ on medium heat turning occasionally.
Cook Time
Thawed: 10-12 Minutes
Frozen: 12-14 Minutes
Electric Grill
Cook on a pre-heated electric grill set at medium.
Cook Time
Thawed: 6-8 Minutes
Frozen: 10-12 Minutes
Appliances vary. These are guidelines only.
Oven
Cook on a foil-lined baking sheet in a pre-heated 425°F (220°C) oven turning once.
Cook Time
Thawed: 12-14 Minutes
Frozen: 16-18 Minutes